Lady - Adopted!
Breed: Shetland Age: early teens
Rescued: 2011 - Financial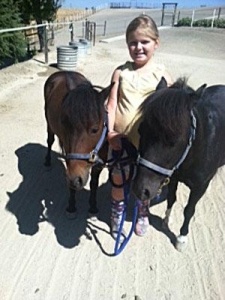 The unexpected loss of our beloved Chili (Ortega's Mom) created a real void for all the kids that flocked to her and her son. We needed to fill that void quickly before our next Tuesday Something to Smile About group learned that yet another equine had passed and that it happened to be one of their favorites, Chili. Two Shetland ponies were available and delivered the next day. Lady and Tramp, named by my great niece, were two among 11 that were rescued due to the former owner's financial hardship. One of our Board Members took some of the rescues and the others were taken to Palmdale by a friend of hers. Lady and Tramp came here.
Lady and Tramp are daughter and father, and yes-Tramp is now gelded!! Although they arrived here not even halter broken and needed a great deal of handling, we know they came to the right place and will learn from the kids that will learn from the ponies.