Belle
Breed: Quarter Horse Age: 25+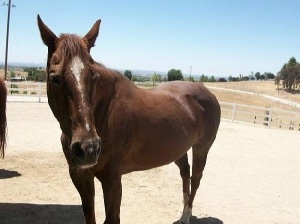 After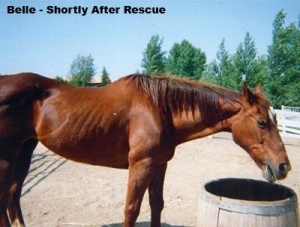 Before
January 31, 2012, we lost Belle, our wonderful "old lady" who was saved in early 2008 from having to go through the auction in Templeton. Her fate at the age of 25, plus or minus, with knees that had been injured by running into a cement block and not treated would have been one no equine should ever have to endure. She probably would have been bought for next to nothing and sold for more to go to slaughter. We had a great deal of respect for old Belle. Even with the knees she had that she could not even bend, she always loved going out and hanging with the herd. She never hesitated. She was even seen upon occasion kicking out if one of the other horses were bothering her too much. Yes, she had spunk even at her age. She loved being groomed and loved to stick her face into the water trough and splash and splash. She was quite the "old gal" whose majestic and kind presence will be sorely missed. She's in heaven now joining Faith, her best friend, who entered those gates only 18 days before and our little Miss Chili only 14 days before.
Original Story
BELLE arrived at Heaven Can Wait as a result of a telephone call from a friend of HCW's who happened to be at the Templeton Sales Yard the same day as Belle. Belle was there not to go through the sale, but to be given away for free in the parking lot. She was once a well-known Reined Cow Horse we were told who had won saddles, buckles and much money for someone or several who once owned her. Judging by the damage done to her knees, the way her back bends to one side and the arthritis throughout her body, we believe she once was what she is rumored to have been. She gave all she had over the years, only to be repaid by being "free" to anyone interested. Instead of having what possibly could have been a very terrible and horrific end, she came to Heaven Can Wait instead.
Belle is in need of a sponsor- Sponsorships are the foundation of the financial support for the life time care of all the equines at Heaven Can Wait.