Faith
Breed: Thoroughbred/Quarter Horse Cross Age: 20+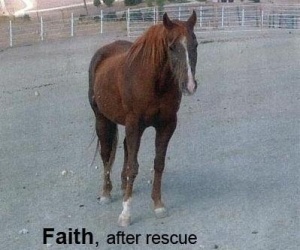 After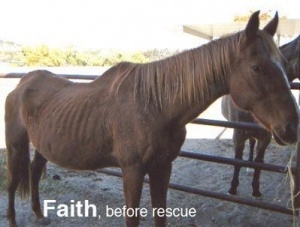 Before
Faith was humanely euthanized at about 1:30 p.m. on Friday, January 13th, 2012. Poor dear old Faith who came to Heaven Can Wait in late 2006 because she had been abandoned with absolutely nothing but her halter and lead rope. Heaven Can Wait was approached to take her but could not due to financial restrictions. Another home was found for her and 6 months later I was approached again because that home was not turning out to be a good one. After driving way out to the hills of Santa Margarita, way out, I met her and was shocked at what I saw; one of the worse starving horses I had at that time seen. I drove back the next day with my trailer and brought her to Heaven Can Wait.
As many already know, last year it was discovered that she had a uterine infection. With the help of donations from some wonderful supporters, it was treated and disappeared and her life went on, but only for a few months. The infection came back worse than it had before and at her age (late 20's we guess) her quality of life was indeed in question. She is now in Heaven in peace and infection free.
.....
Original Story
Faith was abandoned by being tied to someone's gate and left. On October 25, 2006, she was picked up by Heaven Can Wait from the person who took Faith in "to rescue" her. Faith was emaciated, her feet were curled and her teeth had points and hooks on them. She was removed immediately and promptly received veterinarian and farrier care. She has ringbone and a multitude of other feet/leg problems and is still, even with corrective shoeing, somewhat lame. Faith is happy though and will live out her life at Heaven Can Wait with her best friend, Missy. Faith is in need of sponsors – Sponsorships are the foundation of the financial support for the life time care of all the equines at Heaven Can Wait.