Halo
Breed: Pony Age: 30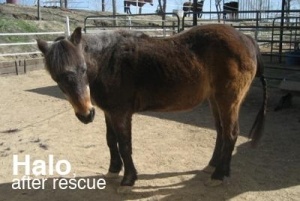 After
Recently, another new addition joined the Heaven Can Wait family, a pony, whom we have named Halo…a pony thought to be only 18, but she is really 30, give or take a few years. Halo was bought by a family at the urging of their young daughter who wanted to give the pony a better home than the one she had. Unfortunately, they did not know that she had a treatable disease that had been ignored for a long time. Instead of being treated, she was passed from hand, to hand, to hand; which, most often, is the fate of ponies. Had the disease been treated earlier, subsequent health issues would not have developed and the little girl who so wanted to help her might have been able to keep her.
We were asked to "rescue" her by these very same people because, when diagnosed by their veterinarian, they realized they could not afford to give her all that she needed; their only affordable option would be to "euthanize" her; a choice they were not willing to make. Although knowing what issues she had and the costs we were going to incur by doing so, we brought her to Heaven Can Wait.
She endured much pain over the years, and yet survived them without losing her spirit and kindness. For that she deserved another chance at life knowing that someone actually, finally, would help her. We have and she will live out the rest of her life in our care.
Halo made her journey to Heaven today, June 26, 2007. Since she arrived at Heaven Can Wait, almost 4 years ago, the effects of laminitis associated with Cushings Disease had been finally stablilized after being ignored by previous owners, she recovered from a fractured coffin bone and proved that just being 30 + years old was not an excuse to give up. She was a trooper and proved that if there was a will to live then live she would. When she finally stopped eating the goodies she loved that contained her medication, we knew she was telling us that she was ready to go. God speed Halo. Your adorable whinny and the courage you always had will be missed. We will always remember and love you.